MY NEW BOYFRIEND
Jungle Jane is trying to set me up with this hot chap. However, I fear he might be a bit too conservative for my tastes. But, if the chemistry is right --- who knows? Jane - Are you sure this will be a good match?
This is who I really want for my boyfriend: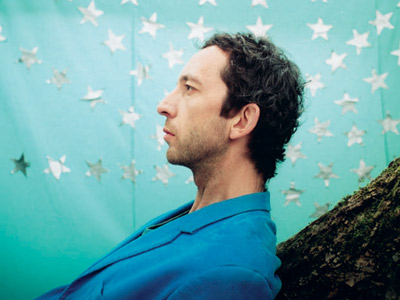 ...Arthur H. who, in my opinion, is the hottest singer/songwriter to ever emerge from France! Go France!
I mean, I think he and I would make for a great match! I'm happy that Ing and Gina have found their true love with Bode M, but Arthur H. --- come on! I mean look at his picture! Hear his voice! You can almost smell him! ...that, being a good thing. There is one minor problem that could get in the way of my possible romance with this French God.
...He's straight. I'm fairly positive. Tho, I can't understand a word he sings. I like to pretend that I can --- and Arthur H. sings only pour moi! However, there are suddle little clues that tell me he is more inclined toward the female sex...
...now color me "ignorant" if you must, but I am fairly certain that he is posing with a naked chick in those pictures. Also, one of his most popular songs is called "Bo Derek" but I was thinking that maybe that was like a witsful little ballad about shopping for clothes with Bo. Tho, I think this might just be wishful thinking on my part. Still. He does do that kick ass cover of "The Man I Love" ...but he is French. And, those French are so wacky! Ya just never know. I wish that I were French. ...not really. I think I'd rather be British and live in London. Then, perhaps I could travel to Paris every other week and serve as Arthur H.'s groupie or something -- if it were to turn out that my suspicions of his being heterosexual are incorrect.
But, I'm not French. Five years of French study at university and all I can say is "Je suis fromage" ...and, tho my heritage is all British --- I am not. Just a Texas born guy recently transplanted from New England to the gay side walks of San Francisco.
So, Jane, if you want to send me that boy's number I will give him a call.
A guy's gotta date, right? And, I want a boyfriend. Maybe I could teach this guy how to dress. I don't think the post-70's-slut-boy thing is really working, but big thumb's up for the effort!
Ingrid gave me a CD of new Daniel Johnston music. I've been loving it. However, I seem to be stuck on a repeating loop of "Happy Time" --- really love that song. Daniel should do a duet with Liz Phair. That would be some cool shit! ...as the kids say. Or, hella-cool as all the kids in SF seem partial to saying.